Well, I didn't totally chicken out, only halfway!  My original plan for our dining room was to paint the table creamy white and the hutch robins egg blue.  I painted and distressed the dining table and even ventured out and had the robins egg blue paint made.  In between buying the blue paint and getting around to painting our hutch, I went to an open house in our neighborhood. No, we are not looking to move, but I have no self control!  I think its also called being nosy.  The house was stunning and filled with dark wood dressers and cabinets and I loved it.  So I decided to call it quits and stop at painting the table.  I do still love that robins egg blue color, and I have the paint so something in this cottage is eventually getting painted.
Sometimes I confuse myself when I'm trying to stick to "my style." Sometimes I'm not even sure what "my style" is!!  Does this ever happen to you?  I see a beautiful French country room, I'm going French country. I run across a beachy bedroom I love, I'm beachy.  The open house I went to was a classic cottage, but a little on the formal side, that's me — Got to have it!  I saw a quote posted by Country Living on twitter the other day that went something like …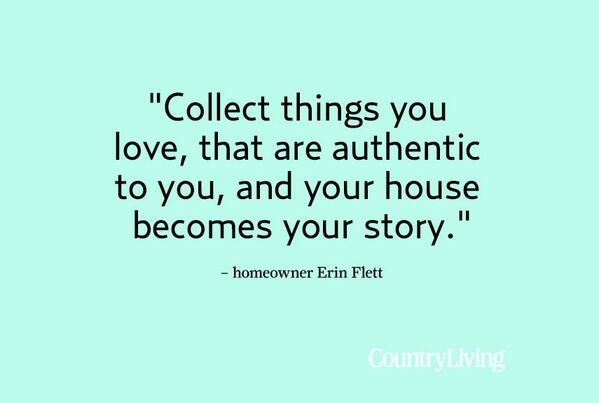 I like the color combination of the white table with the taupe walls and dark wood hutch.  Of course I can always bring in a little robins egg blue with accent pieces.
Here's what I did to give the table the this look.  I started by wiping the table down with a damp cloth.  Next, I painted it with creamy white flat latex paint. This table took three coats, but you can use your judgement for your projects.  Finally, I busted out the electric sander and got to it.  I was planning on distressing it more, but I started to run short on time.  When I started to clean up the dust around the room, I was pleasantly surprised to see how pretty the table turned out.  Happy with my work, I stopped there.